Please consider becoming a Regular Supporter and Friend of Exeter Food Action, by clicking this button and selecting 'regular'.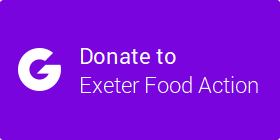 Any regular giving is extremely helpful. These examples hopefully give you an idea of our costs…
£3 per month enables us to run a freezer, preserving any food that can be used later.
£10 per month means we can supply a soup kitchen with fresh fruit, vegetables, meat and bread every week.
£50 per month enables us to collect all the excess food from a supermarket.
£250 per month is around half the cost of our warehouse.
Exeter Food Action relies upon the support of grants and donations, both big and small, and has benefited hugely from the support of individuals through crowdfunding schemes. Your generosity has made this work possible. With that in mind, we're delighted to offer a regular giving Friends scheme, for those willing and able to financially support this work on a regular basis.
If you can support us regularly for as long or as short as you see fit, it enables us to plan ahead more reliably. Your help is very much appreciated in our attempts to save food from going to waste, and feeding those who are hungry.
If you represent a company interested in becoming a Corporate Friend, please contact our treasurer Jon Curtis on exeterfoodactiontreasurer@gmail.com 
Huge thanks for your support.
All donations go directly to fund our work, minus the admin charge from JustGiving. We are Gift Aid eligible, so Just Giving can reclaim tax from your donation on our behalf. There's more information about that here –https://justgiving-charity-support.zendesk.com/hc/en-us/articles/204663747-Understanding-Gift-Aid-UK-only-
If you have questions, please contact us via exeterfoodactiontreasurer@gmail.com