Exeter Food Action could not exist without the generous support of our friends and supporters. We are so grateful for your financial and practical help. If you are able to donate money to help our work, please click on the button below. If you are able to, we would ask you to consider making a regular donation by following the link below, or visiting our Friends page, via the tabs above.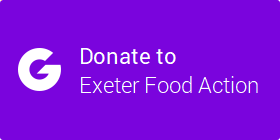 We have received significant support from The Methodist Church's Connexional Grants Fund, for which we are hugely grateful. You can read about it here – https://www.methodist.org.uk/our-work/our-work-in-britain/grants/what-have-we-funded/
In December 2015 we successfully ran a crowdfunding campaign which helped secure our future until Summer 2017. 204 supporters generously gave £6,826 in 28 days, far exceeding our £6,000 target.
We ran a second campaign in December 2016. With the help of 104 Christmas cracking supporters, we successfully raised £2,451 in 14 days, again exceeding our target.
We now have a "Friends of Exeter Food Action" to encourage more local support. You can join this scheme by visiting the Friends tab, on this website.
Please contact us if you would like to fundraise for us and would like help. We can also be contacted by post – Exeter Food Action, c/o The Old Deanery, The Cloisters, Exeter, EX1 1HS. Any cheques can be made payable to 'Exeter Food Action'.
We are Gift Aid registered, so if you are a UK taxpayer, we can reclaim the tax you paid on it from the government.
Many, many thanks for your support.